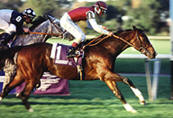 Its a fact that horses in Europe are bred for the grass. Most of their racing is done on grass so it is only natural that the bulk of their sires prodigy excel on turf. You can take advantage of these sires occasionally here in the United States when horses with European pedigrees start on the grass.
French horses seem to really perform on the turf, I give high respect to any French (FR) horse running on the turf. Irish (IRE) bred horses are also particularly fond of the grassy surface. Horses with a New Zealand (NZ) pedigree or an Australian (AUS) bloodline can also offer good betting opportunities here when they run. Especially if they have yet to run here and are being overlooked in the betting.
European horses will generally appreciate soft ground more than American horses. They get a lot more soft courses in Europe so horses are used to running on it and the sires will produce offspring that handle the soft condition well.
Looking back at big turf races in America will bear out the quality of European Breds on turf. One need only look at the list of breeders cup turf winners below and their European pedigrees to appreciate this fact.
1990 - In The Wings (GB)
1993 - Kotashaan (FR)
1995 - Northern Spur (IRE)
1996 - Pilsudski (FR)
2000 - Kalanisi (IRE)
2002 - High Chaparral (IRE)
Simply put watch for European sires on the grass, especially in big money events.
- Runhorse.com 12-22-'02