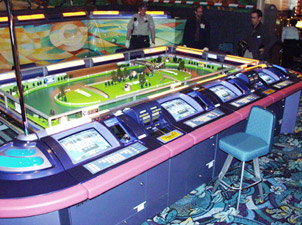 Windsor, ON - On a recent trip across the border to the Windsor Casino I found an interesting thing in the casino, a horse racing simulation game. Of course I was intrigued so after further investigation here are the details of the game I encountered.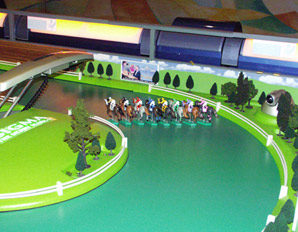 Its considered a slot type game by the casino and its's manufactured by Sigma Games, in Tokyo Japan . Called the Derby Mark VI it relies on the newest digital technology to deliver a video of the race on several monitors around the console. The new version of the game also features a smooth looking race with each horses legs moving independently to add to the realism.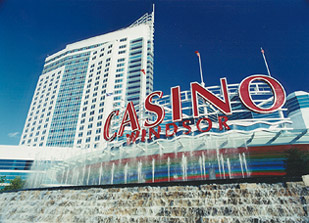 I was told that the response to the game has been overwhelming and that there is often a line to get a seat around the game. You can bet anywhere from a quarter to five dollars per wager. With win bets and quinella odds on each race. The races all featured 8 horses per race when i visited the casino. The payouts seem to be good, often times the quinella was 40-1 or better in it's payout. There is some type of speed & power rating in the form of colored lines over each horse on the wagering console. Yet these lines did not seem to not have a great effect on the outcome of the races i viewed.
Overall I found the game to be very entertaining. I have a great hope that this game will indirectly promote the sport of Horse Racing to people. It seemed to be generating excitement and I love to see people excited about Horse Racing. So for now patrons of the casino can enjoy the newest version of an excellent racing simulation and hopefully in the future come out and get taste of the real sport of kings.
- by Kerry Zangara 7-24-'01
Information About The Game Supplied By Holly Ward Of Windsor Casino.
All photos used by permission of Windsor Casino.