Steeped in tradition, the Kentucky Oaks is the premier race in the world for 3 year old fillies. Much as the Kentucky Derby is the coveted race for 3 year old colts, so is the Kentucky Oaks to the fillies. The Oaks is always run the day before the Derby itself and it rightly ranks as one of the premier horse races in the world today.
Any filly that is good enough to win the Kentucky Oaks stamps herself as one of the premier female horses of her age and continues the races long tradition of excellence.
While the Kentucky Derby winner receives a blanket of roses, the Oaks winner receives a beautiful blanket of lilies. This stylish winners blanket is affectionately known as "Lilies for the fillies" .
Previous Kentucky Oaks Winners
---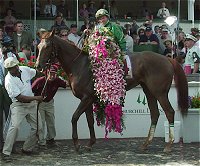 Oaks Winner Secret Status With Jockey Pat Day