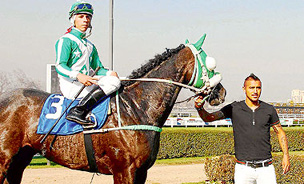 July, 8 2014 - Arturo Vidal is not only a soccer star who plays for the famous national team in Chile "La Roja", he is also a horse owner and racing fan.
Vidal can sometimes be spotted getting his picture taken in the winners circle at places like Club Hipico de Santiago with one of his champion horses.
He even sports various tattoos related to horse racing and he recently made a big investment in the sport. He purchased 6 young colts by hot sire Scat Daddy which cost in total $324 million Chilean pesos or around US$600,000.
The sons and daughters of Scat Daddy have been burning up the track here in Chile. It seems as if they are winning just about every Group 1 race on offer.
So in that sense, it sounds like a sound investment. However, Mr. Vidal is unlikely to recoup his initial investment, as the purses here in Chile are significantly less than in the United States or Europe.
His goal for the moment, seems to be to win group 1 races and in that sense, his purchase makes sense.
There is one thing for sure, in the future we can expect to see Arturo Vidal scoring goals on the soccer field and getting his picture taken in the winners circle.
Click Here For Complete List Of Articles