Strong form lines are important to keep in mind especially in stakes events. Finding horses that have performed well against top rated runners and can offer you value today is a handicappers dream scenario. Such factors fell into play for me on January 11th, 2003 at Gulfstream Park. Race 10 was the Hal's Hope Stakes and there were 2 horses running with strong form lines who were going out at generous odds. The horse I respected in both horses form lines was Volponi who recently proved his quality with an impressive win in the Breeders Cup Classic. 2 horses in today's event had shown a solid finish against Volponi. Keep in mind that we are talking about a Grade:3 level event here and i would rate Volponi as a strong Grade:1 horse.
Windsor Castle had faced Volponi in the Meadowlands cup 3 starts back and had finished a fast closing 3rd in solid time. He also showed some respect in the betting going at at just over 10-1. His next race in a Grade:3 event at Aqueduct was a close 2nd place finish where he went out as the favorite. His latest race was a bit confusing as he was fairly well beaten at a mile, however this was against Grade:1 company so this race can be excused.
Saint Verre was the other horse that caught my attention from a form line stand point as he had run against Volponi in a The Grade:3 poker Handicap which was run on turf. He set incredibly fast fractions that day and was still able to hold on to the place against a solid Grade:1 horse like Volponi. This race was a definite clue he has ability. He has a ton of early speed and is coming in fresh today. He is kind of a hit or miss horse but the odds were right as he was going out around 14-1. He also had blinkers off for the first time today which can be a positive equipment change.
Windsor Castle going out around 9-2 looked like a bit of a more solid win chance in the race but Voploni had to be given at least a chance to beat him. I narrowed the race down to the other contenders as a 2-1 entry of American Style and Najran with P. Day And J. Bailey riding. The other horse with a place chance was the co-favored 2-1 horse Hero's Tribute who came off of a nice 3rd place finish to Lido Palace recently.
I bet my $200 on the race fairly confidently with these exacta combinations. $50 straight exacta Windsor Castle / Saint Verre. $30 exactas key Windsor Castle / The entry & Hero's Tribute. I then bet $30 straight exacta Saint Verre / Windsor castle. $25 exacta key Saint Verre / The entry & Hero's Tribute. The total cost was $190. I was pretty much assured to cash with either a Saint Verre or Windsor Castle win but the obvious score here was with both running the exacta.
After a well rated late ride by E. Coa I was happy to find Windsor Castle In front of Saint Verre by 2 lengths at the line. Saint Verre was just just able to eke out 2nd ahead of a game Najran. By reading the form lines of this race carefully and looking for value I was nicely reward with a $50 exacta which paid $116.60. This returned me $2,915 a nice return for $190 in a small stakes field.
.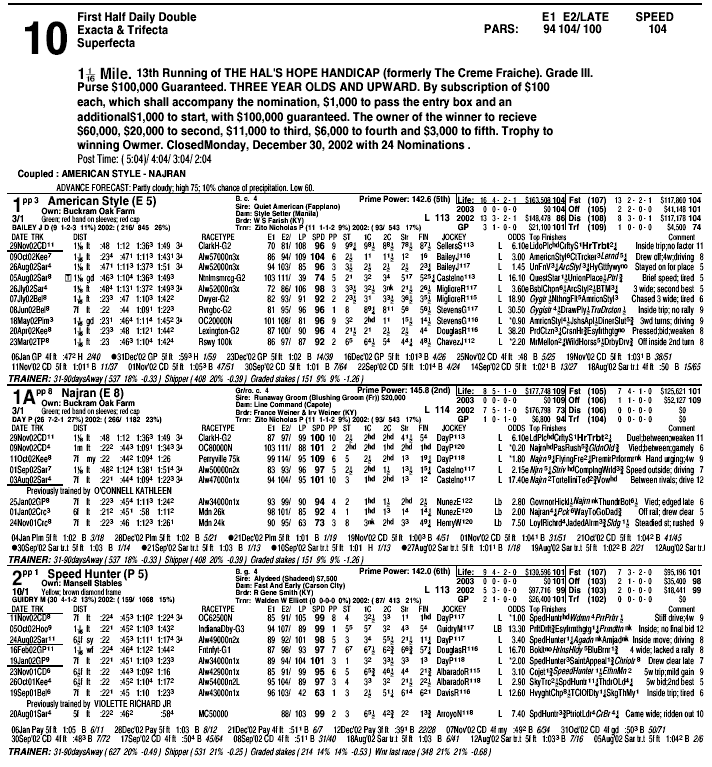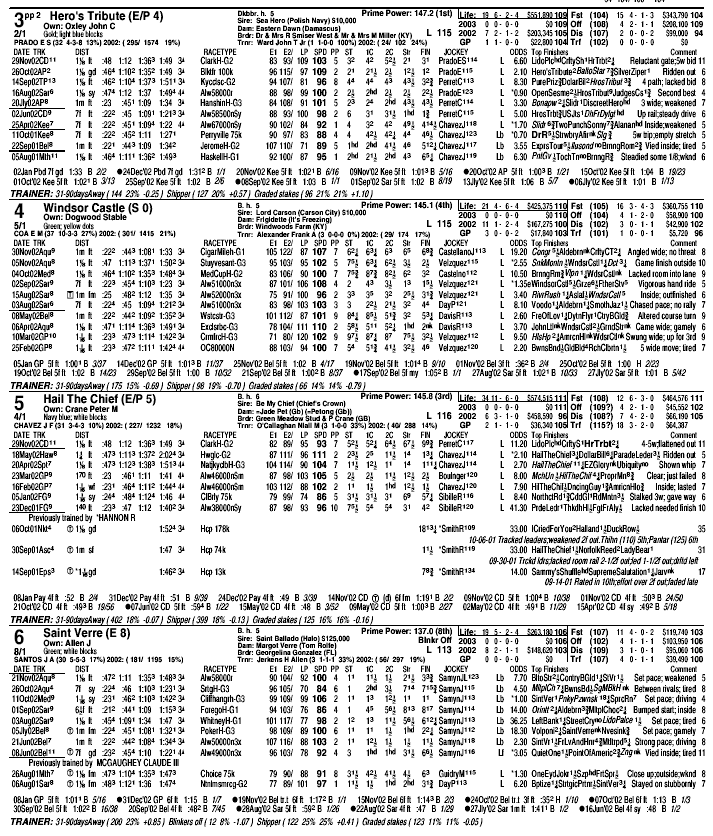 ---
10th race - Gulfstream Park

-

January 11, 2003

Race Name: Hal's Hope H. - Grade: 3
Off at: 5:05 Race Type: Stakes
Age Restriction: Three Year Old and Upward
Value of Race: $100,000
Distance: One And One Sixteenth Miles
Surface Type: Dirt Track Condition: Fast
Winning Time: 1:42.33
Pgm
Horse
Jockey
Win
Place
Show
4
Windsor Castle
Eibar Coa
11.40
6.00
4.00
6
Saint Verre
Jose A. Santos
11.40
5.40
1A
Najran
Pat Day
3.00

Also ran

: 3 - Hero's Tribute , 1 - American Style , 5 - Hail The Chief (GB) , 7 - Dream Run , 2 - Speed Hunter

Wager Type
Winning Numbers
Payoff
$2 Pick 3
4-6-4 (3 correct)
568.40
$2 Exacta
4-6
116.60
$2 Superfecta
4-6-1-3
1,219.20
$2 Trifecta
4-6-1
422.40

Click Here For Complete List Of Articles