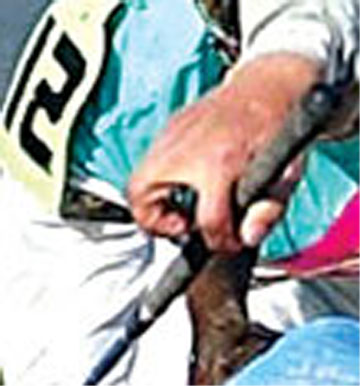 We took it upon ourselves to blow up the Kentucky Derby image which "looked suspicious" to a Churchill Downs steward. After careful examination of the blown up image we can clearly see that the silks of Jockey Jerry Bailey aboard Empire Maker are what appears in the image, not an illegal device.
It is unfortunate that our sport receives mostly negative press and that stories of cheating are the ones that make the headlines. It is also quite disappointing to me personally that a steward would come out with public comments before looking closely at the photos. Comments such as the one made by Rick Leigh of Churchill Downs when he called the photo "highly suspicious looking" do not help to improve the confidence of the general public in racing.
Lets think next time before we make comments which may taint the publics faith in our sport, especially when in this case there are no grounds for such comments. It is this racing fans opinion that Jockey Jose Santos name be immediately cleared and that Steward Leigh make a public apology to Mr. Santos.
Runhorse.com by Kerry Zangara 05-11-'03